Professional 3D Print & Engineering
3D printer sales – 3d printer salg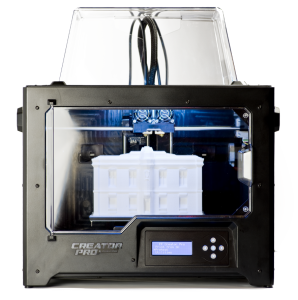 Creator Pro
Thanks to the open source technology , the original Creator has been proven to be a precise and
high quality 3D printer. With numerous upgrades based on this proven and highly popular original model,
Creator Pro takes the precision and quality to a new level, and is featured with more possibilities. It is
best-suited for enthusiasts and makers. And now the 2016 Creator Pro is more stylish and user-friendly in design.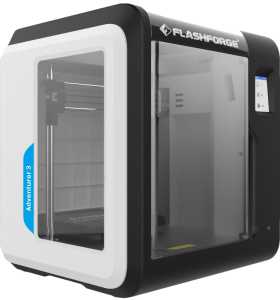 Adventurer 3
Zero-based entry level, print immediately when unboxing
No complicating leveling operation, a good helper of parent-child education, school education and maker workshop;
Adventurer 3 supports Wi-Fi connection, remote camera viewing and automatic filament feeding;
The fully enclosed design and smooth motion axis bring ultra-quiet experience;
The heating platform greatly improves printing succes rate, bright and smooth model forming effect, no warping at the bottom.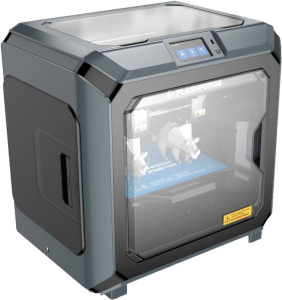 Creator 3
Creator 3 uses independent extruders to allow for the printing of incredibly complicated shapes and parts with ease, using soluble supports. Independent extruders also allow for the printer to print the same part twice, allowing for small production runs at double the speed of an ordinary printer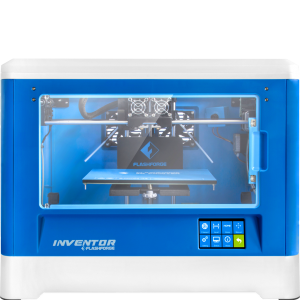 Inventor
The flashforge inventor is fully enclosed to maximize the printing success rate by creating a stable temperature inside. This also protects children from sticking their hands into the work area during prints.
The dual extruders move along the x/y axis via belts, and the heated bed raises and lowers, which takes care of the z plane. It has a maximum build of 230x150x160mm.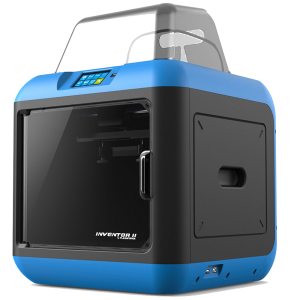 Inventor II
Inventor II features the 2nd generation Wi-Fi connection with more stable wireless file transmission. And now you can send 3D files from your computer to Inventor II memory with your own Wi-Fi network under AP or STA modes. USB stick is another stable way to transfer files. No USB cable, no interruption even when your computer runs into standby.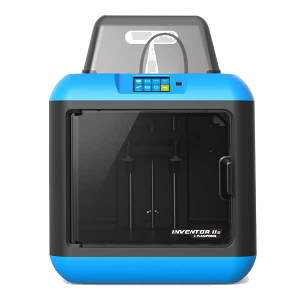 Inventor IIS
The Inventor IIS features a 3.5-inch HD touchscreen and FlashForge's famously user friendly printer controls. With an intuitive interface and convenient WiFi connection, you can start printing your 3D models in no time. The ability to preview 3D models on screen ensures you'll always know what you're going to get, while real time printing status lets you know exactly what is going on.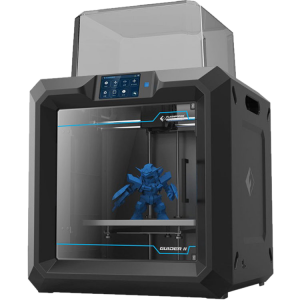 Guider II

Guider II is a professional FFF 3D printer, and follows its predecessor in its reputable structure. With an all-metal frame design and body side panels made of high-strength ABS material, the Guider II not only has a stable print performance, but is lightweight and durable. Compared to the first generation, Guider II incorporates more types of filament, such as the transparent top cover and front doors, allowing the print cavity temperature to be more stable. Guider II also includes a new Resumen Printing function after power failure to ensure a smoother user experience.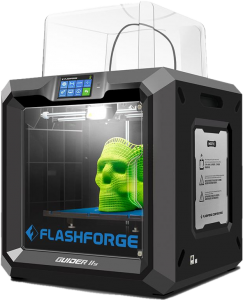 Guider IIS
The Flashforge Guider II S 3D printer is another trim of the Guider II with additional features. In addition to all the specs that its predecessor boasts, the Guider II S added features include: built-in HD camera for remote monitoring and new air filtration helps to reduce unpleasant odors and hazardous emissions. Guider II S is an industrial grade 3D printer. A massive build volume with the top level of FFF technology, designed to provide the maximum stability and ruggedness when printing your designs